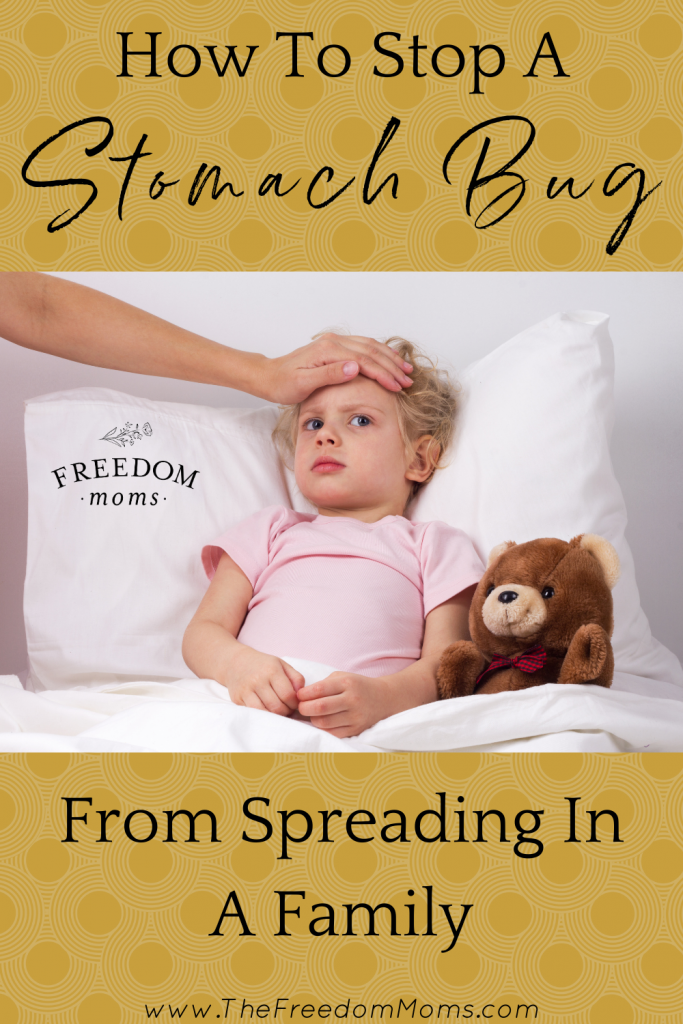 Boy oh boy do I have some tips to share with you today on how to stop a stomach bug from spreading in a large family! We have been through the ringer for the last month!
If you read my last post, about surviving times of illness in a large family, then you already know that we have been battling the stomach bug. What you may not know is that we went through this stomach bug for four whole weeks! Eek!!!

Everyone in the family (11 of us total) got it, except for my oldest son, and four of us got it twice! Twice!!!
I always thought that once you caught it, you were good and wouldn't get it again that same year. Let me tell you, folks. You CAN get it again!
I'm going to share with you today what we did wrong, and then what we finally started doing that ended up containing the virus and getting it out of the house. It was NOT easy. We basically adopted hospital grade sanitation procedures. But it was necessary.
And now that I have these procedures, I have some hope that in the future, when we get the stomach bug again, we won't have it for nearly as long, and we might be able to contain it to just a few people coming down with it. We'll see.
But hopefully not anytime soon!
What We Did Wrong
I have identified several areas where we were doing "it" all wrong. As soon as the first child started throwing up, I gave the children one of my Hygiene Moments With Mommy talks. (they love these! ;))
I went over the normal stuff. Wash your hands a lot, don't eat or drink after anyone, etc. etc.
We *tried* to quarantine. But this all started with our youngest children (2, 3, and 4 year olds). Has anyone really figured out how to quarantine a 2 and 3 year old yet? I know I haven't. So we did the best we could here with the younger children.
Because we were all washing our hands a little more than normal, I think we actually did ourselves a disservice. And I know that statement sounds totally bizarre!
Hand washing needs to be all or nothing.
I think if we had just washed out hands like we normally do, this would have spread a lot faster and we could have gotten over it very quickly. But because everyone was washing their hands a few more times per day, it sloooooooowed it down, but didn't stop it. We were going 3-5 days in between each and every occurance. When you have 11 people in the family…well…it takes forever!!!
So, I should have gotten really militant about hand-washing from the very beginning, or we should have just stopped all together. And of course I am not actually advocating that your family stop washing their hands. I am advocating for militant hand-washing during times of illness. Slacker hand-washing is just going to slow everything down.
Stop A Stomach Bug From Spreading Step #1- One bathroom for sick people
I just want to give credit to my amazing neighbor. She took pity on me when I texted her and asked her to keep praying for us because we were still sick. She told me that one of her kids got norovirus over the summer and she did a TON of research and was able to completely contain it. So she passed everything she knew along to me.
The first thing you will need to do is to designate one bathroom for the sick people. Ideally, this is where they will throw up (this is tough with the little people, just do the best you can during the active throwing up period). But all other bathroom stuff needs to happen in this one bathroom.
The virus is transmitted via feces and vomit. So the goal here is to completely contain all feces and vomit in this one small room. Your child needs to let you know each time they are going to the bathroom. They need to touch as little as possible while in there. As soon as they are done, they need to wash their hands very thoroughly. Have them sing happy birthday twice through, use warm water, and get all surfaces of their hands vigorously.
Before they leave the bathroom, they need to call you in and then they will tell you each surface they touched. You will have a spray can of Lysol and spray down each and every place they touched.
So this will most likely mean:
light switch
toilet
toilet handle
toilet paper holder
sink faucet
soap dispenser
door knobs
counter top
You will want to spray until it is wet, and then let the surface air dry (don't wipe it off).
I went the extra mile and washed my hands too, just in case.
The only people allowed in this bathroom are people who have been sick in the last 7 days, and the dis-infector!
Now, here's the kicker. Any person who has been sick, still carries the virus in their body for 7 days!!! That means they have the potential to spread the virus for 7 days. You see where I'm going here?
Each sick person has to only use that bathroom and follow all of the above steps for 7 whole days.
The goal here is to make sure that no sick germs make their way out of the bathroom and that those germs in the bathroom are killed as quickly as possible.
It's a LOT of work. But taking care of barfing kids for 4 weeks is even more work.
Stop A Stomach Bug From Spreading Tip #2–Disinfect every time and close the toilet lid!
This ties into tip #1. You must disinfect the sick person bathroom every single time someone uses it. By the time I started following these protocols, I was actually going in there a few extra times a day and spraying everything down extra times. If you start these protocols as soon as the first person gets sick you probably won't hit those levels of paranoia. Just spraying the bathroom down after each use will be enough.
One thing that is really important to remember though is to close the seat lid before flushing. If you flush with the lid open, this will result in toilet plume. This is pretty much your worst nightmare if you are trying to contain the stomach bug.
Make sure every single person in the house is closing the lid after using the restroom (this includes after barfing!).
Stop A Stomach Bug From Spreading Tip #3– Disinfecting main rooms
Goodness, this is getting long! I thought this was going to be a quick blog post! This tip is short though…
At the end of the day, take a Chlorox wipe and wipe down all doorknobs and light switches. I also take this opportunity to spray down the other bathroom hot spots with Lysol (toilet, toilet handle, light switches, faucets, and the bathroom counters).
Before any food prep, spray down your kitchen counters, and before eating each meal, spray the table off. Let it air dry.
Stop A Stomach Bug From Spreading Tip #4–Laundry
There are a few different ways to disinfect your laundry. If you are just doing whites, bleach is the obvious choice, I don't have a whole lot of whites though, so…
Pouring between 1/4 and 1/3 of a cup of straight up, old fashioned Pine-Sol into the the fabric softener receptacle will do the trick. This must be in warm or hot water. When I am doing this, I program my washer to do an extra rinse, just so that the smell isn't too strong. (It will seem like the smell is going to be strong, but by the time the clothes run through the dryer, the smell has dissipated.
It's important that you get this specific type of Pine-Sol, it's the only one that is laundry-friendly.
There is also this product by Lysol. I wasn't able to find this product at my local Wal-mart, but the price is good on Amazon. I'm going to order some to keep in the laundry room. Both of these products are great to have on hand for colds and flu as well.
According to the doctor I spoke to, just regular detergent and warm water are not enough to kill germs in the laundry.
Stop a Stomach Bug From Spreading Tip #5–General Hand Washing
This is something that everyone in the family is going to have to actively participate in, and it's going to require a LOT of reminders from you, Mom. You are going to have to constantly re-emphasize hand washing. Before every meal, after you see anyone leave the bathroom, if you see someone walking inside, or just walking around…tell them to go wash their hands.
After every diaper change, before you prepare any food, before you grab a drink of water, wash your hands!
Hand Sanitizer does NOT kill Norovirus! It kills most colds and flus, but NOT Norovirus.
I think the most important part here is to keep the children washing often and properly. Have them sing Happy Birthday two times through and show them how to scrub every surface of their hands.
Stop a Stomach Bug From Spreading Tip #6– Time-frames
Remember, the norovirus lives in the body for 7 full days after first symptoms. So this means that you must be vigilant with the infected people for that long. I had my children rejoin the family after 24 hours, but they had to use the one designated sick bathroom for a full seven days.
Use this information too if you are around anyone who has recently had a stomach bug. If it's been less than 7 days, use extreme care around them (be very careful with hand washing and hand sanitizing in the same bathroom, or just stay away).
This all seems like so much, and it is. It really is. But if you don't want to have to deal with the bug for weeks on end, or you don't want it going through every last person in your home, it may be worth it to just go a little bit crazy for a week.
I really wish that I had had this information when the first child in our family got sick, because honestly, it feels like we lost a whole month of life that we can't get back. I know this isn't going to be for everybody. It's extreme! But if you find your family in a cycle of illness that you just can't break, it may be worth a shot!
Let me know if you have any more tips for containing contagion!