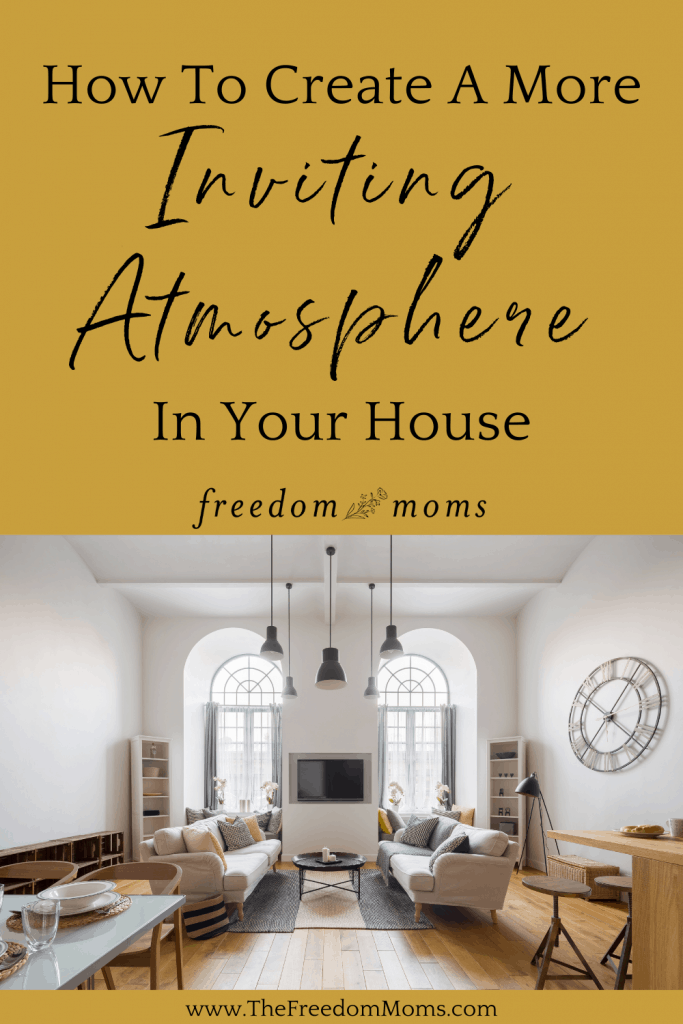 We all to have a more inviting home atmosphere. We want home to be the place our children long to be, our husbands look forward to at the end of a long, hard day, and the place where we can bring guests to offer a respite from the world.
Over the last few years, every time I have been gone into an inviting home, I have tried to pinpoint the one thing that is responsible for the atmosphere. I've come to the conclusion though that it's not just one thing.
It's a combination of many things, done well. Read on for my formula for creating a more inviting atmosphere in your own home.
Inviting Home Atmosphere Tip 1. Banish Clutter
Cluttered spaces are the first thing a new visitor will notice when she steps into your home. Clutter somehow attracts the eyes like a beacon in the night.
I know that it is so difficult to completely eradicate your home of clutter, it's an ongoing process in my home too! With nine children, I have had to come up with my own method of keeping a clean and tidy home throughout the day.
It's important to use the method of decluttering that will work best for you and your situation. Some homemakers will prefer getting it all done in one fell swoop (Konmarie style), and others will need to just declutter as a part of daily life.
Whichever method you choose, just make sure to keep at it!
Inviting Home Atmosphere Tip 2. Sweet Attitudes
Have you ever been in a gorgeous home that is immaculately clean and decorated, but you couldn't wait to get out because of bad attitudes in the home?
A bad attitude has the same effect as spoiled leftovers that have been sitting in the refrigerator for three months. It just ruins everything and the stench permeates the whole house every time the door is opened!
Nobody is perfect, and we all have off days. But strive to have your home be a place where people are built up and not torn down.
Don't allow the atmosphere in your home to be critical, sharp, defensive, suspicious, or any other negative adjective you can think of.
Let the attitude in your home be one of love, joy, and grace.
Inviting Home Atmosphere Tip 3. Mouth-Watering Aromas
There isn't much you can do to your home that will beat a delicious aroma. In my opinion, sumptuous food being prepared is by far the best air freshener in the world!
Years ago when we were listing a home to be sold, I had the realtor over to take pictures for the listing. I had a chicken baking in the crockpot, seasoned with garlic, onions, and bay leaves.
The smell was heavenly, but I didn't realize quite how powerful it was until the realtor commented on it.
She said, "What is that amazing smell?"
Me, "Oh, that's just my roasted chicken candle." And I pointed to the crockpot.
The realtor didn't realize that I was joking, she thought I must really have a roasted chicken candle burning. After I explained, she asked me to have a chicken in the crockpot every time we showed the house because it made the house that much more attractive!
Some of the most delicious food scents are roasting meat, freshly baked bread, and cookies, but if you prefer a fresh clean scent, opt for lemon, lavender, or rosemary.
You can get an essential oil diffuser, a good room spray (I love Mrs. Meyers!), or candles to stand-in for when you aren't cooking.
Inviting Home Atmosphere Tip 4. Creature Comforts
I categorize throw pillows and fuzzy blankets under creature comforts. You want your family and guests to be comfortable when fellowshipping in the living room.
Make sure to have several cozy blankets within reach around the room. I used to put my blankets away when spring rolled around. This year, however, I realized that I should leave them out.
Air conditioning can be chilly, so you want to make sure that everyone is comfortable.
Carefully coordinated throw pillows and throw blankets can be just as important in a decor scheme as your wall art and paint colors. I love buying several different prints of throw pillows that all coordinate together. These creature comforts will give your home a cozy, lived-in feel.
Inviting Home Atmosphere Tip 5. Music
Soft music playing in the background isn't just for entertaining. It's a lovely way to add some cheer, excitement, or calm to any day, and can instantly change the atmosphere of your home.
You can find any kind of music you like using the Pandora app, and then just play the music through your house. Just make sure it isn't too loud for conversation!
You can create different playlists of favorite songs for different occasions. We have a bunch of different choices.
My children love dancing, so we have a dance party playlist (this really comes in handy for days when it's raining and the children have the wiggles). We have a worship playlist for when we are getting ready for church. And I will play a classical music station during school time or if I'm feeling stressed out and need to decompress.
Don't be overwhelmed if you aren't currently implementing any of these atmosphere boosters. Just pick one or two to start with and go from there.
I have found, in my own life and home that the gradual changes are the ones that stick!
What's your favorite tip for creating a more inviting atmosphere in your own home?